Finally completed Shell 3 Platform. I might as well give an entire motherbase tour while i'm at it. Spoiler (long ass post) come children. Big Papa shall lead you..STOP SHOVING!!
----ORGIN---
Mother Base was an off-shore plant located on the Caribbean Sea that the Militaires Sans Frontières used as a base of operations in 1974. Its crew was made up of people recruited in the field, primarily by Big Boss, MSF's leader, and from those who chose to join separately. Alongside mercenaries and former government soldiers, its ranks included researchers and other civilian personnel. They together formed a group without borders, ideologies, or isms, and had no regard for age, gender, nationality, or race.
The plant was originally built by an American university for use as a research platform for Ocean thermal energy conversion (OTEC), with some assistance from the U.S. Government. It was also originally planned for it to link up with similar facilities if it succeeded. However, they were unable to solve the thermal efficiency problem, so the project was ultimately scrapped. Shortly thereafter, the plant fell into the hands of KGB agent Vladimir Zadornov, who was speculated to have bought the plant through a dummy company. The plant was also designed to link up with other OTEC plants, indicating an intention to expand the plant.
In November 1974, Zadornov, posing as University of Peace Professor Ramón Gálvez Mena, offered the off-shore plant to the Militaires Sans Frontières to use as a forward operating base as downpayment in exchange for their services in Costa Rica.It was originally rusted and the main occupants were seagulls. However, the MSF managed to refurbish the newly-dubbed "Mother Base,"eventually upgrading the design to include a hexagon-based design.Over time, its size grew and the plant essentially became a country in itself.
--The Destruction of MSF---
On March 16, 1975 the Mother Base was due to be visited by UN nuclear inspectors for a routine inspection. Because of this development, as well as it concurring with the capture of Paz by her former employers, Cipher, Big Boss infiltrated Camp Omega in Cuba, in order to retrieve her for interrogation, and to rescue Chico who had also been imprisoned there (with Chico being the main reason they had undergone the mission at that time, originally planning to infiltrate the camp after the inspection).
It was under the guise of the UN nuclear inspection that Mother Base was attacked by the military group XOF, coinciding with the return of Big Boss from the mission at Camp Omega, though Kazuhira Miller, Big Boss, Huey and one MSF soldier survived. At least one strut sank during this time, due to the strut pillars being rigged by C4 by an XOF advance team beforehand.
The attack was enough to have smoke being seen from far away, leaving the media to blame MSF as being a bunch of "money-grabbing private militias," as well as causing a scandal among the United States and various other nations and groups when it became apparent they were among the clients list. However, the United States Secretary of Defense publicly denied that America or its allies had any involvement in the incident, with the UN and the IAEA making similar denials when reports came out that IAEA inspectors had visited the site, and the other countries avoiding any comment altogether. Officially, the casualty figure was uncertain other than there not being any known survivors, although military choppers had been sighted in the area both prior to and after the incident.
---New Motherbase (Diamond Dog Structure)
At some point during the 1980s, Diamond Dogs managed to situate themselves on an offshore plant modeled after their doomed prior base in Seychelles Waters (Current Location) The government of the Seychelles gave the facility to Diamond Dogs (who at the time were Platoon-sized) after they halted an attempted coup by South African mercenaries, under the condition that if something similar happens again, Diamond Dogs aid them. In addition, the Diamond Dogs chose this spot largely because it was a good staging area for various global hotspots due to it being near Afghanistan, Africa, Lebanon, Sri Lanka, and East Timor, among others.Eventually, their Mother Base grew large enough to install several forward operating bases and act as a major player in the world.
--The Big Shell Blueprint--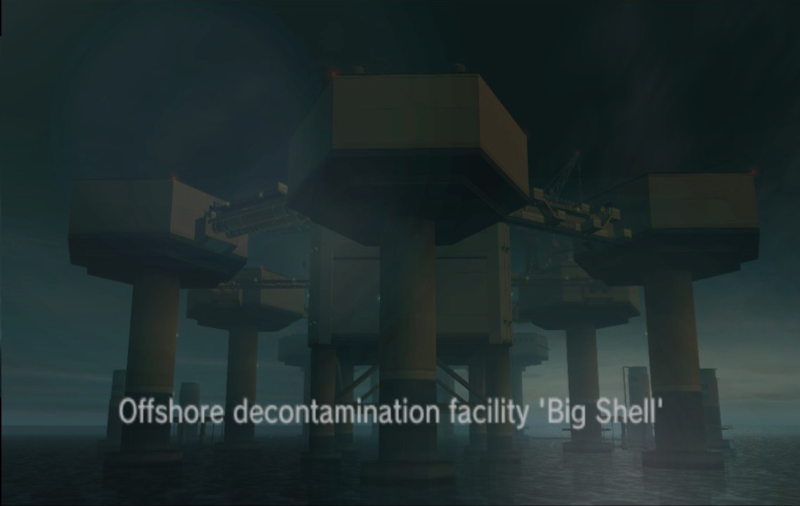 In an Addition to Expansion to Motherbase, We decided to Remodel the Motherbase Structure after a large marine decontamination facility established approximately 30 kilometers offshore from Manhattan, New York in 2007 According to the United States Government, the sinking of the USS Discovery in New York Harbor in 2007 caused a large quantity of crude oil to be discharged into the sea. The government immediately responded with the construction of an oil fence. Using chlorine derivatives, they sterilized the entire zone of polluted sea and constructed a huge marine decontamination facility. Biological reactors managed in "nodes" were installed inside the Big Shell, and it became a symbol of environmental protection. Also, the Big Shell utilized a genetically altered form of sea lice that had its DNA altered with that of the bacterium Pseudomonas to give it the ability to decompose crude oil through an enzyme in its body. They were used to a great extent in order to reduce costs and the number of spill maintenance workers. The sea lice were benign and harmless, but they had ravenous appetites, making them a pest as well.Several of the employees, specifically at Strut E, were also avid gamers, and often arranged to have game software delivered to the Big Shell for their own personal usage and then used in Shell 1 Core B2 Computer Room.
The Big Shell was composed of two "shells," each containing six struts around the core of the shell. Oil fences were also erected in order to contain the crude oil. The facility was also almost completely automated, which meant that there were few human personnel required at the Big Shell.
---OUR VERSION---
Based off this Shitty Blueprint i manged to savage,Motherbase is a combination now of The Old Design mixed with the 2007 Big Shell Design. Still located in Seychelles Waters, The Old base that was a dust magnet have been upgraded to a higher degree  We now have 3 Shells Instead of two.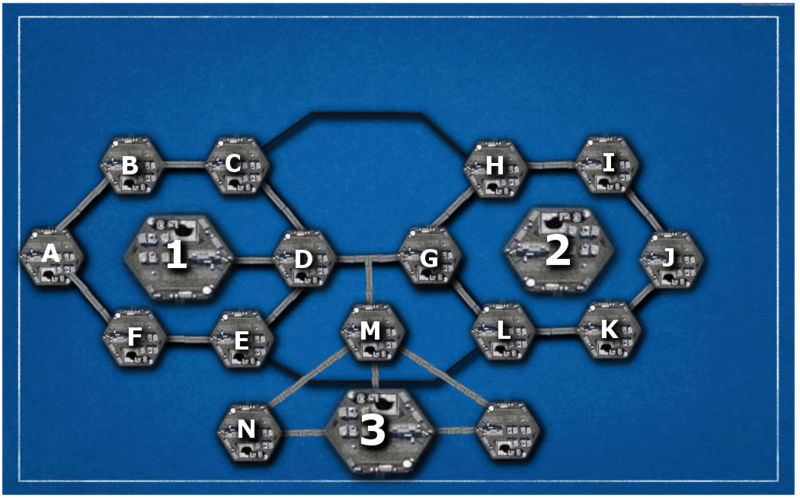 Shells 1 and 2 Still servers their original purpose as they did 9 years ago with a bit of alternation
--Shell 1 Core---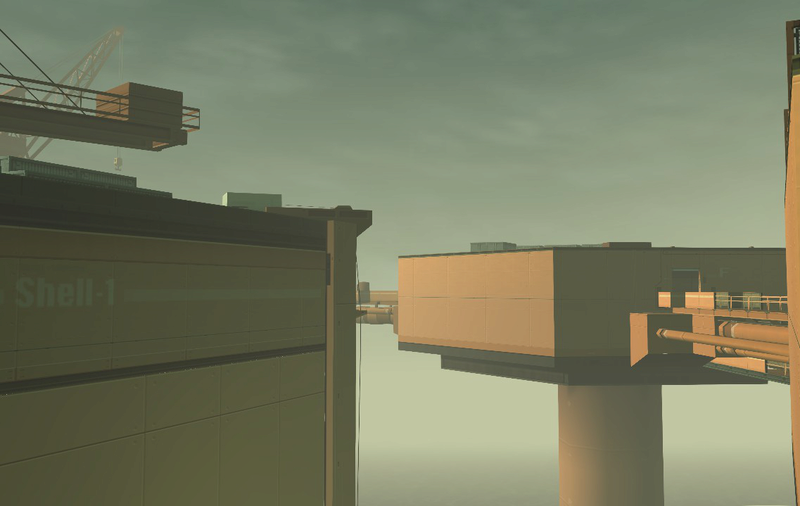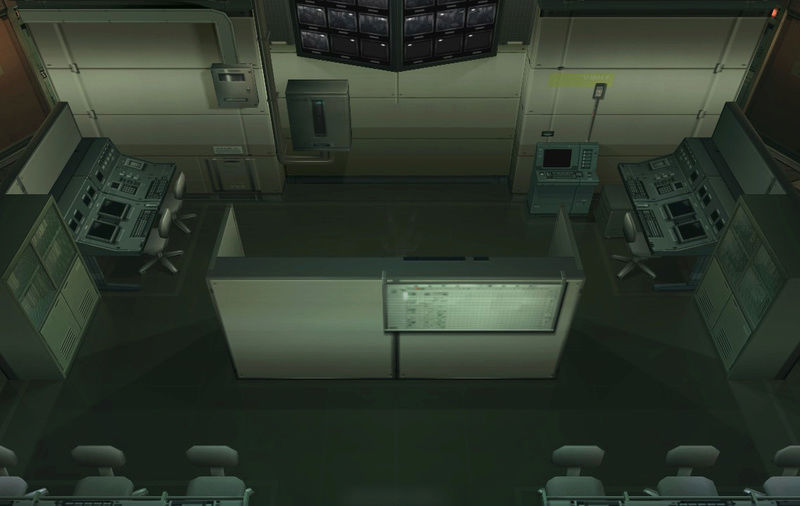 With 3 floors inside the main building and 6 Struts surrounding it, this is usually the main traffic area of Motherbase
Shell 1 Core 1F Storage Room [Images Coming Soon] 9 years ago this floor served as the main elevator floor holding locker rooms for employees. Still does the same today except we store old junk in there as well.
Shell 1 Core B1 [Images Coming Soon] Was used as a Crews Quarters and waiting room, but inside a side door was a Conference Room Hidden with a Retinal Pattern Eye scanner to get in. This room held hostages. Today the scanner has been broken for all-access for people with Level 2 Cards. The Conference Hall is used to hold presentations and mission briefings and even eating when mess hall is full.
Shell 1 Core B2 Computer Room [Images Coming Soon] Years ago this was the floor of All operations for Computer related operations. Data Anayizing, Coding, and even Gaming. Still does the same thing today. All Computers Are Upgraded to Windows 7, 8, and 10.
Strut A Deep Sea Dock [Images Coming Soon]. An Area used for basically box storage and loading/unloading sub-marines. 9 years ago has a nasty bug infestation. Today....90% haven been cleaned up...
Strut A Roof
Pics:
The Roof Itself Contains the Industrial Elevator that Descends 50ft down to Strut A Deep Sea Dock. It also provides a nice overview of The entire Plant.
Strut A Pump Room
Pics:
This Strut was dedicated to Surveillance Room of all Cameras, UAV Cyphers, and Gun emplacements. It also serves as the Pump Room (hence the name) Behind the wall (pics coming soon) at bottom where we control plumbing. This Strut Has 3 openings. From the Roof. A door to the left, going out to AB Connecting Bridge. And A door to the right going out to FA Connecting Bridge.
AB Connecting Bridge
Pics:
The Bridge Connecting Strut A with Strut B.
Strut B Transformer Room
Pics:
The strut that powers literally everything. When coming from AB bridge it takes you to a L shape Hallway with a terrible mess. Seriously looks like some shit straight out of silent hill. Inside the walls on the right is the Main power room. Unless you are a Technician that needs to do work in there i advise you not to even step foot in there. Despite the fact it's 101% Electric Mess of Exposure of panels and stuff, it is rumored to be haunted by SEAL team 10 soliders that were here 9 years ago killed. Going straight and minding your own damn business safely takes you straight to the BC connecting Bridge.
BC Connecting Bridge
Pics:
The bridge that Connects Strut B and Strut C. Originally also connected Struts B and C to Shell 1 Core. But that area has been destroyed years ago and kept the same due to sentimental value (and pure laziness).
Strut C Dining Hall
Pics:
Shell 1's Mess Hall. It is also the only Bathroom Source in Shell 1. Why i have no clue. If you gotta go, better start sprinting your ass to strut C. This is where Sammy spends 90% of her day at and where Missy works behind the kitchen. The 2nd Entry leads you to the CD Connecting Bridge.
CD Connecting Bridge
Pics:
The Bridge that connects Strut C with Strut D. The Enternce to Strut D also has a camera in front. Has a lovely view of Shell 2's Strut G.
Strut D
Sediment
Pool
Pics:
Strut D contained sediment pool no. 1, which was a facility where polluted water was stored without disruption so that its large pollutants could settle and then be extracted from the water.
Is a Community Pool Now, stop asking questions..removed beams and rotaters and added a tall ladder to get in and out. Strut D also was the Gateway for both Strut C, Strut E, and of course the Shell 1-2 Connecting Bridge. And now the Shell 3 Bridge as well.
DE Connecting Bridge.
Pics:
The Double Floored Bridge that connects Strut D and From Strut E. Gives full view of the back of the Heliport. Also gives a decent view of the Side of Shell 2.
Shell 1-2-3 Connecting Bridge [Pics coming soon]
The Bridge that Connects All Struts Including the original Shell 1 and 2 and now the new Shell 3. It also gives a top view of the Oil Fence 150 feet down..
Strut E Parcel Room / Strut E Heliport
Pics:
Strut E contained a heliport, which was used as an aerial transport hub to deliver supplies to the facility due to the oil fences surrounding the Big Shell cutting off its sea entrances from seafaring transport vessels. Strut E also contained a conveyor system that transports supplies throughout the different areas of the facility, to which it sorts the supplies to where it needs to go via the markings of its containers. Now the Parcel Room is just a ultimate UPS station for all things mail and package related. The Heliport is still a Heliport. Has a nice view of Strut D and Strut F plus the main enterence for Shell 1. Strut E also has a Level 5 Door down the steps inside that leads to the Oil Fence That has a ladder that goes 150feet down to the oil fence and stretches all the way to Strut L in Shell 2. (Pics for that coming soon)
EF Connecting Bridge
Pics:
The bridge that connects Strut E from Strut F. It also is the main enterence for Shell 1 Core. Warning. During High Alerts this bridge will have Claymore mines fitted with Stealth Camouflage  making them invisible. It will also have Gun Cyphers patrolling the main door of Shell 1 Core.
Strut F Warehouse
Pics:
Strut F acted as a warehouse for several of their equipment that they didn't have any immediate use for. At least one set of equipment included toys such as action figures. Today it is used to store the same, except more equipment and now Weapons. Each door inside having a specific level of Clearance card for protection of high end equipment.
FA Connecting Bridge [Looks the same as EF]
The bridge that Connected Strut F to Strut A. Normally has a Cypher UAV bothering you.
Shell 2 Core Air Purification Facility
[Pics coming soon]
The Shell 2 Core was where the actual filtration system resided. It purified the waters via benign bacteria in the area that broke down the oil in the water via microbes decomposing microcarbons. The B2 Filter Chamber contained a vat for this purpose. As a side-effect of the microbes decomposing the oil by absorbing large amounts of oxygen in the purification chamber, the water within the chamber also had its buoyancy virtually eliminated, which meant there was virtually no chance of getting back to the surface once one falls into the vat. So i cannot stress enough. do not fucking play around near this thing. The first floor also contained an air purification facility that eliminated the stench from the seawater that resulted from the oil spill. However, the vat broke at some point, causing the shell to flood in areas below the first floor. You'd have to Swim underwater to Reach Filter Chamber II (or use the new mini-submarine) because it cost too much to fix.
The Main 1F floor is the most coolest area in the entire building due to all the Air Conditioning and vents. Also fair warning. There is a Electric floor grid on the ground where they used to keep the president hostage 9 years ago. It is not on...but..it comes active randomly without no explaination from time to time..probably best not to play in there unless a Technician.
Strut G contained the oil processing facility. Now a gamer room. [No Pics available]
Strut H contained a warehouse. This is where Motherbase Market is located. [No Pics available]
Strut I contained an assembly facility. Is now a Shooting Range. [No Pics Available]
Strut J contained a power plant. Still a Power Plant. Barely used. Now is the main enterence for R&D Facility down below.
R&D Bipedal Weapons Lab [No Pics Available]
Where we build mech's and shit. nothing to see here move along no shoving.
R&D Firearms Weapons Lab [No Pic Available]
Where we build guns.
R&D Chemical and Biology Lab
I never really know what the fuck goes on around here. it is a mad house 24/7 with the scientist.
R&D Misc Lab
You don't wanna know what goes on in there.
Strut K Sickbay
Strut K contained a biochem lab. Now a Sickbay and Brig Area for prisoners.
Strut L Oil Fence
Strut L contained the effluent processing facility, which treated sea water that was expunged of oil was treated with chlorine and other chemicals to sterilize and disinfect the sea water so it could be made suitable for flushing back into the ocean again. The strut also contained an emergency ladder of a height of at least 40 meters/130 feet. Down the ladder was a long narrow platform bridge that streched all the way to Strut E Ladder. when going across. Only go one person at a time or you will fall in the ocean. HAS AN VERY BEATIFUL VIEW AT SUNSET!!
Strut M Dining Hall [no pics available]
The secondary Dining hall that isn't used very much. Mostly lower rank soldiers use due to it being so close to Housing. usually is crowded. This area Connects Shell 1-2-3 connecting bridge to Shell 3.
Strut N Animal Conservation Platform [No Pics Available]
Where we house all animals that we found, captured, or saved.
Strut O Training Platform. [No Pics Available]
The Area where we do Training.
Shell 3 Core 1F Medical Platform [No Pics Available]
Our brand new Medical Platform used for medical research and Hospital. If a patient is either feeling better or needs to be Quarantined , they go to Strut K. Has a Heliport.
Shell 3 Core B1 Rest Platform
The main area that houses most personell. Most Operatives, Faction members, and Commanders had their own private area of their owns. Has it's own Tavern, Arcade, Pool Hall, and a huge ass TV. also contains a small Mess Hall.
Shell 3 Core B2 Hangar
This floor contains all Vehicles, Mechs, and Other means of transportation, Has a Industrial Floor that lowers out of the strut for either a crane or a helicopter can pick up the shit with.