First topic message reminder :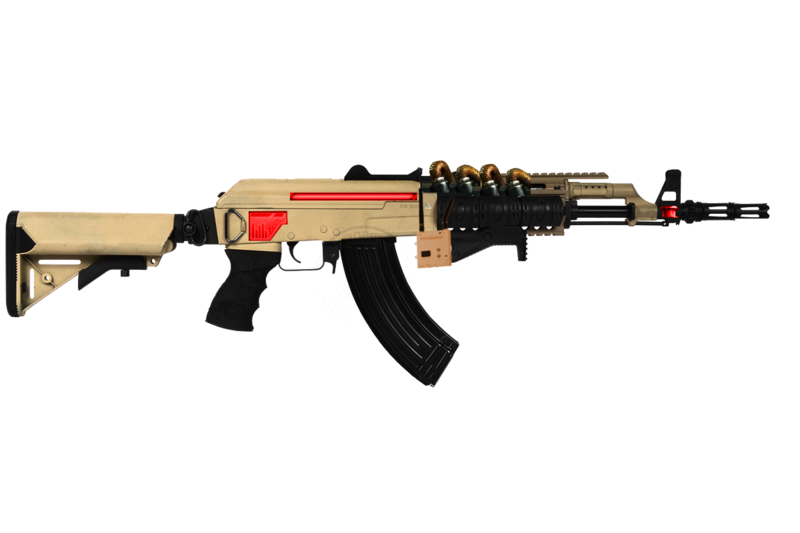 (open in new window for full size)
A Prototype Full Automatic Projectile to Energy Weapon Conversion Assault rifle created by Scarlet Elite (Me). The Rifle is a Modern SOPMOD version of the AK-74 Modified convert 7.62mm Bullets into High Temperature and high frequency Plasma entities making the most powerful armor piercing FMJ High Class projectiles. The secret is the barrel chamber that cooks up plasma while the gun is idle. When the pullet passes through it is heated up quickly and shot out with energy beam capacitors. making it the ultimate Laser pew pew gun .-.
It is the first of Bullet to energy conversion and is still being tweaked with, however, it has been field tested. 7 out of 30 soldiers face exploded from radiation when firing so..this is pretty good progress...i think? ._.
Due to its energy conversion the weapon has a very high damage rate, however it also has a high rate of recoil, the rate of fire is moderate until the chamber itself is overheated, which slows down rate of fire and possible explodes in your face if you continue to fire overheated. Eventually working on a safe cooling and overclocking system..
WARNING!!! IS NOT A TOY!!!!! KEEP OUT OF REACH OF DUMBSHITS (and or children ._.)
Max Safe Temperature... 206F.. 140F idle. overheat temperature at 380F (at this point you really should stop shooting ._.)
If weapon is dropped on a hard impact, may cause explosion upon firing. If Weapon is modified and or Chamber is damaged. Not only Warrenty voided..but explosion may be present. Do not store in areas in temperature over 200F. Warning. Highly flammable..keep away from ignition..fire..or chemicals... do not submerge in any form of liquid..or get wet..at all... Scarlet Elite is not responsible for serious injury and or death occured caused by XAK.
--