Strange how we're almost months into RP and we all kind of jumped onto what to do pretty quickly. However, i still feel the need to do a basics of how things run just for the reference, trying to explain as much as i can in such little reading.
What is this..what is this thing you are all doing here?
This is a Private Military Contract (PMC) Forward Operating Base (FOB) Faction and Private Force (PF) Roleplay or "Motherbase Roles" for the forum. The FOB is known as New Motherbase (NMB). it is a custom character and custom story driven game with endless possible outcomes based on Improvisation, Story telling, mystery solving, and artwork expressing text novel based game. The stories are all created/can be created by any character participating and can be shaped by anyone.
How Though?
Pretty simple. The story runs on a series of Trigger and Action.Characters create the trigger, the imagination of the character and their plans folding out becomes actions. Actions can be Missions, Side ops, or events that have been created by players. These triggers can be made completely original or based of an alternate story or creating another story as a base or alternate timeline.
In order for a successful storyline, Characters must strive to obtain the most maximum amount of effort and interaction with others. There are a few times of interactions
Free-Form Interaction- You live on an military base away from civilization, no matter how you got here, this is your home. your story needs to intertwine with that in mind inside and outside events. When not on misssons, make your character or persona act like they would on this type of setting.
Mission Interaction- Like it or not, you work for me now. lel. make me proud. show me what your character is truly capable of. Be the best Special Force Operative you can be. Don't want to shoot people in the face? Don't have to! We have  other jobs you can do. Gunsmith, Scientist, Medic, Mechanic, R&D Developer, Intel and Support team, and so much more. Here is a more detailed list of things you can do (outdated)
Here
How do i keep up with story?
Keeping updated on current and past events isnt too tricky. You can read motherbase Archives for previous encounters and logs. You could also ask the intel team to give you a rundown OR check out the
New Motherbase wika
So how exactly do you interact?
The game is played by interacting with either the posts that have been set up to novelize and capture the best mind movie in post..or you try your hand at real time roleplaying via the chatbox.(results may vary) This site is Mobile and Desktop friendly. However for mobile you must request desktop site to receive full experience.
How does one make a name for themselves?
Your Persona or Character can be shaped in however way you want. there are only a small set of limits your character can be. (the main one being Overpowered and God RP'ing. that's my job.) Your story is all up to you, the only limit on your story is that it has to make sense. Plain and simple. Your reputation is based on your actions you do with other players as you particpate. The more you interact the more your name spread, the money you earn and Expierence points (+XP) you earn. you can also earn a reputation from your friends, Factions or enemies. Please keep in mind that it is recommended to separate your RP Character from your normal member self. If you want to act yourself. Base your character around your personality and traits, do not import anything else..or do..i dont care. there's no rule on it...(just a suggestion calm the fuck down..(kidding...))
XP? Money? Items? what?
The more you participate, the more you gain XP and GMP. GMP is currency. just money. nothing special. GMP can be used to buy things usable in game at the Motherbase Market. You earn GMP the more you complete jobs such as missions, side ops, and specific jobs.
You gain XP the more you work and participate doing a specific field.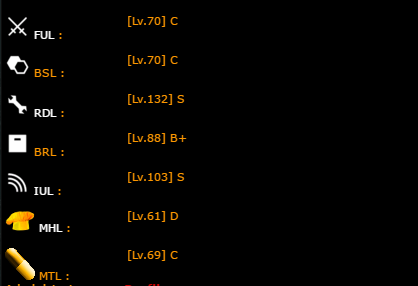 There are 7 Field Levels you can progress on. Levels rank from E (0) to S+++ (500 being the Limit)
1). FUL: Field Unit Level. This is your Combat level. the more you engage in Missions, Side Ops and Events..the more you Gang Experience in this field.
2).BSL: Base Structure Level. This is your Motherbase Construction level. The more you help in building and helping the base expand more, the higher this level get.
3).RDL: Research and Development Level. The more you create things such as Weapons, Equipment, Mech and etc. The higher this level gets. Crafting is key to everything we do.
4)BRL: Bio Research Level. The more you do science stuff..the more this level goes up. Chemistry included.
5). IUL. Intelligence Unit Level. The more you do research on stuff, help solve puzzles, and keep people in the loop the higher this level gets. By default doing missions gain you some intel level.
6). MHL. Mess Hall Level. The more you Cook it up, the higher this gets!!!
7).MTL. Medical Team Level. Being a healer, learning first aid and treating diseases increases your medical level.
How does Factions work?
Characters have the option to make a name for themself in any way they want. They can do it Independently or in a team or Factions.
Competitive Factions
Competitive Factions are all NMB Team members the does competitive against PF missions, Side ops and events, while still technically all still being on the same team most of the time. It's all about preference and Flavor.
Rival Factions
Rival Factions are usually the Antagonists of the stories and helps keeps the balance between Allies and Enemies. Rival Factions can be found either on this FOB (website) or on other PF FOB's (Other websites and Forums). There is also possible to be neutral, if you play your cards right. Rival Factions can be Characters, Non-Playable Characters, And even Alternate Temp Characters.
Perks and Cons of Factions and Solo.
When joining a faction, you're reputation usually grows as your faction does, unless you act alone frequently. When in a faction, All GMP earned is doubled and split between all faction members even. for an example. A standard solo mission could earn you 10,000 GMP. a Faction can earn double the amount depending on the missions performance and each member can possibly earn more than original pay price. However. Being independent, you gain double the Experience points compared to being in a faction, and usually your Character development can increase faster opposed to a faction. Had to make it so it can balance out. A Solo member can still make as much as a faction makes alone depending on the mission performace as well. The choices are all up to you. When leaving a faction to go to another faction you must keep in mind you are responsible for the intel you choose to give away and could make deformation of character easy to develop depending on your actions.